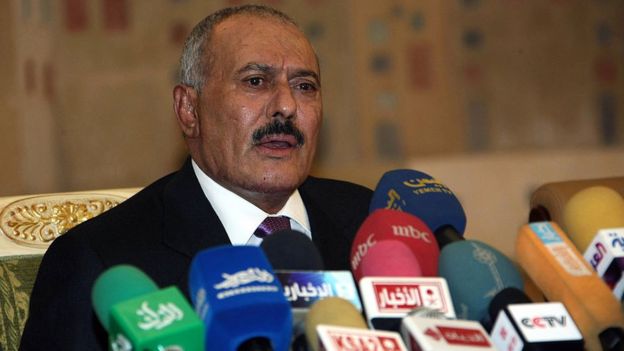 AFP Image caption Ali Abdullah Saleh was forced to hand over the presidency after an uprising in 2011
KRISIS DI YEMEN BERMULA DENGAN ARAB SPRINGS YANG DIRANGKA OLEH PIHAK BARAT DAN AS. TUJUANNYA UNTUK MENJATUHKAN REJIM PARA DIKTATOR YANG TIDAK DISENANGI AS  DI TIMUR TENGAH. TIDAK TERKECUALI YEMEN. AKIBATNYA IALAH KEJATUHAN PRESIDEN ALI  ABDULLAH SALLEH PADA TAHUN 2012, SETELAH MEMERITAH SELAMA 2 DEKAD . BELIAU DIGANTI OLEH PRESIDEN ABDOOL RABOO MANSOR HADI YANG PRO SAUDI.
PRESIDEN YANG DIJATUHKAN ITU BERTINDAK BALAS.BELIAU BEKERJASAMA DENGAN PARA PEMBERONTAK UNTUK MENGAMBIL SEMULA KERAJAAN YANG DIRAMPAS ITU. MANTAN. PRESIDEN ALI ABDULLAH SALLEH BERKOMPLOT DENGAN PUAK HOUTHI UNTUK MEMERINTAH ATAU MERAMPAS KUASA SEMULA.  MEREKA  MEREBUT WILAYAH WILAYAH SEBAGAI TANDA PROTEST DI ATAS PENGLIBATAN SAUDI YANG MELETAKKAN MANSOUR HADI KE TAMPOK KUASA. 
The Houthis formed an alliance with Saleh, their former foe, but it remains shaky. They now control the capital Sanaa and other major cities in central Yemen. President Abd-Rabbu Mansour Hadi fled to Riyadh in March 2015, where he set up a government in exile.Mar 24, 2016
AFP Image captionA Saudi-led multinational coalition intervened in the conflict in Yemen in March 2015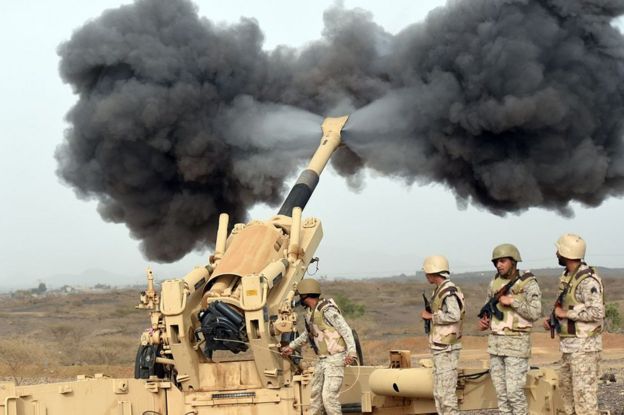 EPA Image caption More than 60% of civilian deaths have been the result of Saudi-led air strikes, the UN says
What happens in Yemen can greatly exacerbate regional tensions. It also worries the West because of the threat of attacks emanating from the country as it becomes more unstable.
Western intelligence agencies consider AQAP the most dangerous branch of al-Qaeda because of its technical expertise and global reach, and the emergence of IS affiliates in Yemen is a serious concern.
The conflict between the Houthis and the elected government is also seen as part of a regional power struggle between Shia-ruled Iran and Sunni-ruled Saudi Arabia.
Gulf Arab states have accused Iran of backing the Houthis financially and militarily, though Iran has denied this, and they are themselves backers of President Hadi.
Yemen is strategically important because it sits on the Bab al-Mandab strait, a narrow waterway linking the Red Sea with the Gulf of Aden, through which much of the world's oil shipments pass.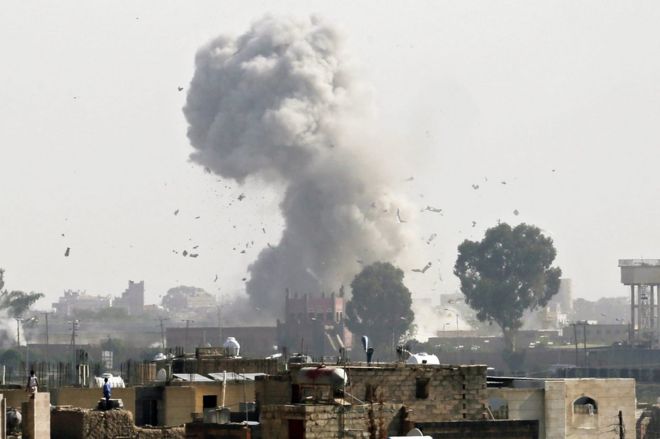 YEMEN EMERGENCY
As fighting intensifies in Yemen, the situation continues to deteriorate. More than 2.4 million people are forcibly displaced by the ongoing conflict, and over 260,000 sought refuge in neighbouring countries